Click here to read more about our T-Chem 1 garment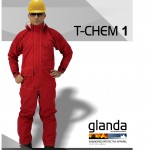 Click here to read more about our T-Chem 2 garment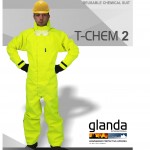 General Information.  Glanda is pleased to offer breathable chemical splash protection clothing incorporating TORANT® Chemical Splash Fabric.
Performance to Standards. The T-Chem 1 chemical protection garment is made from TORANT® Chemical Splash Fabric that is certified to the NFPA 1992 Standard on Liquid Splash-Protection Ensembles and Clothing for Hazardous Materials Emergencies, 2005 Edition. More info.
Breathable. Our suits allow sweat to evaporate through the chemical barrier to the outside. This reduces the build up of heat and liquid sweat inside the suit and allows the wearer to continue their activity with more comfort. More info.
Liquid chemical splash protection. Our garments offer splash protection against a wide range of chemicals. These include many common use acids and bases, aqueous solutions, polymers, and organic solvents. Please read the Technical Data and Application Guide for a detailed list.
Whole garment integrity. Our chemical splash suits are seam sealed and sewn together with TENARA® Sewing Thread. These components ensure there are no weak points in the garment construction. The garments have been carefully designed for maximum chemical run off. More info.
Washable, reusable and extremely durable. Enabling the initial investment in the garment to be spread over time. More info.
Fire retardant option available. Offering the same level of chemical splash protection with the additional feature of a fire retardant Nomex® outer fabric.